The City of the Lord Almighty, the City of our God (Ps. 48:8)
If you would like to subscribe to this blog, please put your email in the blank on the right.
Psalm 48
February 20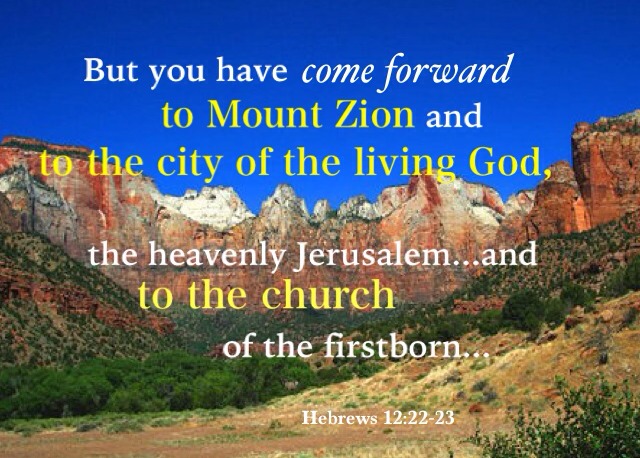 Are you as excited about the "city of God" as this psalmist is? He was speaking literally about the Jerusalem of his day, but prophetically, he was writing about the coming city of God which will descend out of heaven.
"Then I, John, saw the holy city, New Jerusalem, coming down out of heaven from God, prepared as a bride adorned for her husband" (Rev. 21:2, NKJV).
"And he carried me away in the Spirit to a great and high mountain, and showed me the great city, the holy Jerusalem, descending out of heaven from God," (Rev. 21:10).
"The

city

had no need

of

the sun or

of

the moon to shine in it, for the glory

of

God

illuminated it. The Lamb
is
its light." (Rev. 21:23).
There are several things in Psalm 48 that was not yet true yet of that day, and it is certainly not true today about the city of Jerusalem. But when we read this psalm with an eye on the heavenly city of God, it makes us excited about God's present and future reign. Prophetically the psalmist wrote that at some point in the future "God will establish it (the city of God) forever" (verse 8).
This political season is about the worse I have ever seen. The United States is getting less and less united and more and more divided. Our world fares no better than our country. But soon and very soon, we are going to see our King. What does it take to be a resident of the City of God, the New Jerusalem, that "city" that now exists in heaven? The final book and final two chapters of the Bible mentions the city of God 11 times in merely 48 verses.
"Blessed are those who wash their robes, so that they may have the right to the tree of life and that they may enter the city by the gates." (Rev.22:14, ESV).
Are your garments spotless? Are they white as snow? They only can be if you are among those who have "washed their robes and made them white in the blood of the Lamb" (Rev. 7:14). The Bible says "the blood of Jesus his Son cleanses us from all sin…If we confess our sins, he is faithful and just to forgive us our sins and to cleanse us from all unrighteousness" (1 John 1:7b, 9).